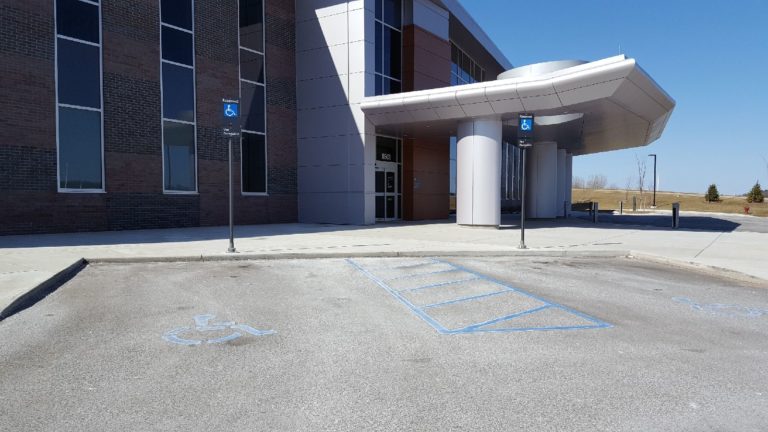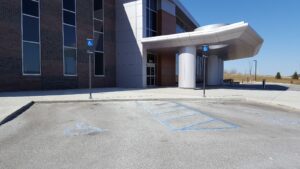 The FlexPost® is perfect for high traffic areas such as hospital parking lots. Since hospitals have to have designated zones, directional signage, and safety areas, the availability of space is limited. FlexPosts are ADA compliant and perfect for a hospital's parking spaces! The flexibility of FlexPosts make them the safest and most durable signposts and bollards available.
Learn How Much You Can Save! Start Shopping For Posts Now! Direct Pedestrian Traffic!
Here are just a few of our FlexPost customers…
Cape Cod Health Care – Hyannis, MA
Rapid City Regional Hospital – Rapid City, SD
Glen Cove Hospital – Glen Cove, NY
South MS State Hospital – Purvis, MS
Adventist Bolingbrook Hospital – Bolingbrook, IL
Mercy Medical Center North – Mason City, IA
Clearwater Valley Hospital – Orofino, ID
Lakeland Regional Medical Center – Lakeland, FL
Pennsylvania State Hershey Medical Center – Hershey, PA
York General Health Care Services – York, NE
Freeport Memorial Hospital – Freeport, IL
Firelands Regional Medical Center – Sandusky, OH
Cape Fear Valley Health System – Fayetteville, NC
Cincinnati VA Medical Center – Cincinnati, OH
Sanford Health – Thief River Falls, MN
Christian Hospital North East – St. Louis, MO
Greene Memorial Hospital – Xenia, OH
VA Medical Center – Saginaw, MI
UT Southwestern Medical Center – Dallas, TX
Baxter Healthcare Corp – Cleveland, MS
Lake Mead Health Rehab Center – Henderson, NV
St. Vincent's Medical Center – Bridgeport, CT
Healthy Urgent Care – Novi, MI
Porter Medical Center – Middlebury, VT
Norte Dame Health Care – Worchester, MA
Stanford University School of Medicine – Stanford, CA
UC Davis Medical Center – Sacramento, CA
Roane General Hospital – Spencer, WV
Virginia Garcia Memorial Health – Hillsboro, OR
The Memorial Hospital – Craig, CO
Eastern Maine Health Care System – Brewer, MA
Billings Clinic – Billings, MT
Douglas County Hospital – Alexandria, MN
Wesley Woodlawn Hospital ER – Wichita, KS
St. Tammany Parish Hospital – Covington, LA
The Mount Sinai Hospital – Miami, OH
FlexPost® products easily mount to concrete, asphalt, and natural ground. For parking structures, we offer adhesive mounting for parking structures. This allows versatility in the most crowded and hectic of parking lots as well as easy replacement and maintenance.