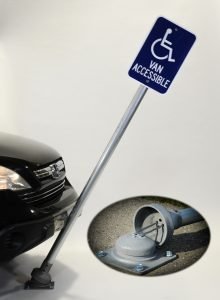 Benefits
Eliminates Damage to Parking Lot Surface
Protects Vehicle from Unnecessary Damage
Handles any Steel Regulatory Signs
Takes Minutes to Install with No Special Tools Required
Specifications
EXTREME INDESTRUCTIBLE HEAVY DUTY FLEXIBLE SIGNPOST
Overall Height: 8.5′ (102″)
Rugged Galvanized Coated Steel Base with hidden 5/16″ thick steel spring
Minimizes damage to vehicles and parking surfaces
Easily accommodates large regulatory signs
Sustains impacts with 360 degree range of motion
Includes steel zinc coated anchors
Sign Brackets Included
Limited Lifetime Warranty for the base unit.
Please call us for pricing and shipping discount on orders of 2+ units (616-928-0829). Ships out in 24-48 hours.

FlexPost XL Asphalt Model #XL-8PSK-A
FlexPost XL Concrete Model #XL-8PSK-C
FlexPost XL Adhesive Model #XL-8PSK-D